If you own a salon business, you know how important it is to have an efficient system in place to manage your appointments and clients. With the rise of technology, salon scheduling software has become an essential tool for salon owners to streamline their business operations and provide better customer service. In this blog post, we will discuss the benefits of using salon scheduling software and how it can help you run your business smoothly.
What is Salon Scheduling Software?
Salon scheduling software is a tool that allows you to manage all aspects of your salon's appointments, staff schedules, and inventory. It makes it easy for your clients to book appointments online, and it helps you manage your staff's schedules and performance.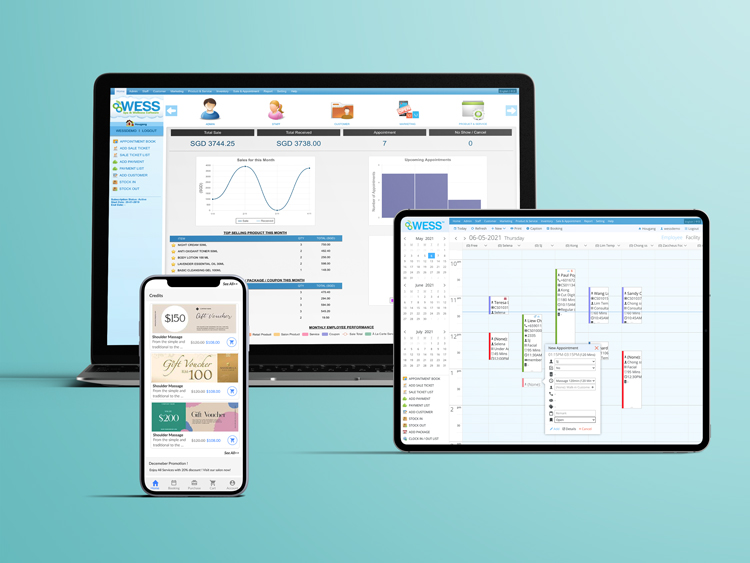 Benefits of Using Salon Scheduling Software
1. Simplify Appointment Scheduling
With salon scheduling software, you can say goodbye to the days of juggling a paper schedule. Your clients can book appointments online, and you can manage them all in one place. This saves you time and energy, and it gives your clients the flexibility to book appointments at any time of the day or night.
2. Enhance Customer Experience
By using salon scheduling software, you can provide a better experience for your clients. You can send automated appointment reminders to help them keep track of their appointments. You can also keep track of their preferences and purchase history, so you can provide a more personalized experience.
3. Boost Productivity
Salon scheduling software can help you stay organized and efficient, even during your busiest times of the year. You can automate many administrative tasks, such as managing inventory and staff scheduling, so you can focus on providing excellent service to your clients. Plus, you can track your staff's schedules and performance, making it easier to manage your team.
4. Increase Revenue
Using salon scheduling software can help you increase revenue by managing your inventory more effectively. You can track product sales and reorder when necessary, ensuring you always have enough stock on hand. You can also offer promotions and discounts to your clients, which can increase sales. Finally, you can track your financials and generate reports to help you make better business decisions.
Choosing the Right Salon Scheduling Software
Choosing the right salon scheduling software can be a challenge, but it's worth it to find the perfect fit for your business. Here are some things to consider when selecting software for your salon:
1. User-Friendly Interface
You want software that is easy to use and navigate. Look for software that integrates well with your existing systems and is simple to learn.
2. Essential Features
Consider the features you need to manage your salon business. This could include appointment booking, client management, staff scheduling, and inventory management. Look for software that offers the features you need to streamline your operations.
3. Cost-Effective
The cost of salon scheduling software can vary greatly, so it's essential to consider your budget. Some software requires a monthly subscription, while others charge a one-time fee. Consider the cost and make sure it fits within your budget.
4. Customer Support
Make sure the software you choose offers customer support and training to help you get started. Look for software that provides regular updates and improvements, so you always have access to the latest features.
5. Integration with Other Software
Consider the software you are currently using and look for scheduling software that integrates with your current systems. This can help streamline your processes and save you time and money in the long run.
salon scheduling software is a game-changer for any salon owner who wants to simplify their life and provide a better experience for their clients. By choosing the right software, you can streamline your operations, boost your productivity, and increase your revenue. So what are you waiting for? Give salon scheduling software a try today and see how it can transform your business!