Trends change all the time.
Especially so in the beauty and fashion world that we live in today.
With the increased media reach, celebrities, artistes and influencers are always in the spotlight, with the world watching them and trying to keep up with the latest styles that they are coming up with. Platforms like Facebook, Instagram and now TikTok have made it easier for fans to catch on the latest fashion and well, unlike in the past where most of the coverage is restricted to print media and the television.
Recently, with the coronavirus and pandemic affecting most countries in the world, this has led to disruptions in many different industries, including the beauty industry. People are spending more time staying indoors as opposed to dressing up and heading out. The way that they spend, services and products they spend on are also changing too.
Like it or not, the coronavirus has brought about some changes to the beauty industry, changes that might be here to stay for a period of time Well, until the virus clears up at least. If you run a beauty business of any kind – a hair salon, massage parlour or beauty make up label, here are some trends that you might want to take notice of so that your business remains relevant.
#1: Online Focus: E-commerce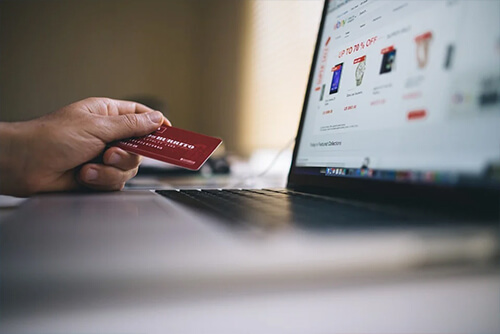 With the Covid-19 virus keeping countries under lockdown, most people are being kept indoors. Even though countries are lifting lockdowns, governments are still advising people to stay at home in order to prevent the virus from spreading. As a result, retailers and physical stores are seeing sales volume fall drastically. In Singapore, where the Covid-19 restrictions maintain that groups of two are allowed to dine in currently, malls and retail outlets are being hit hard financially. According to an article by Channel News Asia, jewellery and ear-piercing store Stellar, which used to rake in as much as $3300 in sales every Sunday at its outlet at Vivocity, commented that there are days where it made only $2 for the whole day, due to the Covid crowd restriction laws that have reduced crowds.
During such a time when people are not heading out, it is absolutely essential for brands to establish an online presence if they're to continue to reach out to their customers. In fact, if your beauty brand has yet to gone online yet, it might be a little late. Well, better late than never.
In fact, the pandemic caused a shift in Singapore consumers' behaviour and thus spurred Singapore's digital economy to earn additional US$500 million annually, while some businesses saw up to three times their normal growth, according to Accenture.
This is a good time to:
Start an ecommerce for your brand if you have yet to
Double down on ecommerce efforts to grow your brand
With more people going online, there has never been a better opportunity for your brand to reach out to consumers who are deprived of the ability to shop in physical stores. Besides, it is a great way to increase revenue
Below are some great guides on how your brand can leverage on ecommerce to continue growing amid the pandemic, which seems likely to drag on for some time:
How to build a successful ecommerce brand from scratch by Neil Patel
53 Experts Share Their 10 Quickest Ways to Increase Ecommerce Sales by Big Commerce
6 Clever Ways to (Ethically) Boost Ecommerce Store Sales by Neil Patel
Besides ensuring that you have an ecommerce website and storefront set up and optimised, another area that you can focus on right now is to ensure that your social channels are optimised and shoppable.
With more people spending time on platforms like Instagram, having a shoppable instagram feed will make it easier for audiences to make purchases from your brand online. Here are some Instagram ecommerce features to make use of:
Instagram shop
Facebook pay
Instagram Live Shopping
IGTV shopping
#2: Reduced overseas travel = more budget and demand for beauty and wellness services
Locally in Singapore, with Covid-19 limiting most people from traveling abroad leisurely for the past two years, most people are looking at other ways to take care of and pamper themselves amid these stressful times.
According to Channel News Asia, many are turning to local operators to get their massage fix as well as other wellness services, with more facing aches and pains working from home, and with borders still closed.
Even the demand for aesthetic procedures has gone up, Singapore plastic surgeon Dr David Loh of David Loh Surgery told Insider. "Because people can't travel, they are looking for other ways to treat themselves. They will buy luxury goods or have a filler treatment to freshen up their look."
Despite, or perhaps because of, the pandemic, the wellness industry has seen an increase in demand for services like massages, spa and other personal wellness treatments given that individuals, who are stressed out from working from home and feeling cooped up due to the lack of travel opportunities, are more willing to spend on services to ease themselves from the tension that the pandemic has heightened.
Although it is also true that consumers might seem to be more cautious with their spending habits because of the falling economic outlook caused by the coronavirus situation globally, a lot of consumers are still willing to spend on products and services that make them feel better.
Instead of tightening marketing budgets, now is actually a good time for salons and beauty businesses to continue to market their product and services and to come up with new promotions that will draw the attention of consumers who are looking to spend.
Besides getting new sales, businesses should also focus on reconnecting with their existing customers, given that it may cost 5 times more attracting new customers when you can spend way less to nurture current customers. Here is a previous article which includes some ideas on how to get more recurring sales from your existing customers and increase customer loyalty.
#3: The shift towards self care
2020 has been a redefining year for the beauty industry. As countries are hit by lockdown and stay home notices, work from home has become the norm.
With less people travelling to offices, the need for beauty products such as lipstick, mascara and concealers – mainly cosmetic products, has dropped. The falling demand for cosmetic make up products is further supported by the fact that less make up needs to be worn since individuals are required to mask up more.
A survey conducted by Milieu Insight on May 2020 found that 40 percent of respondents in Singapore stated that they were spending less on cosmetics or make up products during the Covid-19 pandemic. In the same survey, about 23 percent of the respondents also mentioned that they did not spend on cosmetics or make up products.
On the other hand, the global health crisis has highlighted the importance of taking care of ourselves. According to Vulcan post, Singaporeans are spending more effort to maintain themselves, with skincare items like facial masks seeing an increasing popularity online. Also noted that another emerging beauty-wellness area to monitor is "functional fragrances" – scents purported to have effects like reducing stress.
With long work from home hours and people moving and exercising less due to gym closures, body aches are common issues amongst many working adults. This has seen an increase in demand for massage fixes from local operators. The pandemic may have even helped business for businesses like home massage services, since customers are "more open than before" to having treatments done in the comfort of their homes given that some people choose to avoid visiting spas to minimise the risk of catching Covid-19.
With the pandemic driving more demand away from cosmetics products and services towards self care, it is worth taking note of that for beauty businesses so that they can make the necessary changes regarding the type of products they choose to bring in, as well as the services, products and promotions that they offer to customers. With the right strategy, products and services, it is definitely possible for businesses to cope with the pandemic.